Bikky Tour entry #1
Wed 4th Nov, 11am
Well, this is the first entry and not much to comment on yet. I just thought I'd get the ball rolling. I'll set the scene,
1) Seven people
2) Ludicrous amounts of shit!
And one fuckin bus!
It's gonna be a long, but fun 5 days
Back later
CHRIS!
Entry #2

We haven't even make it to Albury and we've had our first casualty.
The ever important battery cover off the ever trusting beat box about 60kms south of Wadonga. At this rate we won't have any equipment for Sydney tomorrow!
Shane
P.S. SNAKE THREW IT OUT THE WINDOW!! Don't ask!!!
Entry #3!
We just got here (Wagga Wagga) and the place we are stayin at kicks much ass! Prolly the best place BISCUIT has stayed at yet. So I'm off to chill in the pool! With snake.
Later
Matt D.
Entry #4
Thurs 5th, Day 2
Wobbly writing very hard in a moving vehicle. Wagga Wagga hotel very pleasant. Arrived at 2:30 in pool by 2:35. Hotel directly across the road from the venue. The gig went really well. It was exciting to play to a totally different crowd that had never heard us. Anyway up and off to Sydney at about 9:30 .I've just been told we will be driving through the blue mountains and I'm looking forward to that.
BYE
Jake


Entry #5
Matt from the Testeagles stayed in our room and put me and little D'arcy to shame. He went out with this group of guys and girls after the gig and left before us in the morning! We've definitely got to work on the tour stamina!! (is that how ya spell it?)
Chris! X
Entry #6
Thurs 5th Oct, 12:21pm
Driving 150kms/hr (sorry 157kms), 22kms to Golbourn or however the fuck you spell it, and we've been on the E- red light on juice for 10mins. Gee are we runnnnnning outtt offf petrol!!! Welll, we will soon see. Hang-on I'll talk in a sec...
11km's to go, 10 (I hear a lowfront call, we'll make it so easy), 6, 4, 2km, 1km, oh shit another fuckin McDonalds. YEAH BABY. JUICE!!!
Wesz
Entry #7
I'm bored in the van so it's POETRY TIME!!
There once was these guys from a band
They hired an Avis van
They said "ENOUGH IS ENOUGH!!
LET'S BLOW THIS BITCH UP"
And they did and it was really fucked coz they had to walk back to Melbourne
The moral of this poem is don't blow up Avis vans until you get to your destination and work out your last line of your poem before you realise that nothing good rhymes with it!!
CHRIS!


Entry #8
Hey girls (Jules and Sair),
Well we played our first show outta Vic! And it was fuckin really cool. It was wicked to play to new people that had never seen us before and they really seemed to like it.
So we have 102km to go till we get to Sydney and this gig should be really cool because we have be told that there will be a heap of industries people there, so we must ROCK hey! Ok, so how are you two goin back in sunny Melbourne hey. Anyways Wesz is bitchin because he wants his fuckin pen back, so I'm outta here.
Later
Matt D
Entry #9
Friday - 11:00am-ish!
Another one down! Last nite we played the Annandale in Sydney and it went pretty cool!!
We were on early but it was fun anyway. This writing in the van thing isn't getting any easier!!
The place we stayed at was smick. It was a hostel so there were heaps of foreign people (nice ladies!) We're on our way to Canberra - the firecracker and porn central of the universe! Firecrackers for me, PORN FOR JAKE!
I'm in HEAVEN!
CHRIS!
Entry #11
Snake just did a radio interview on some Sydney station (FBI FM) while we waited in the van. We just pulled up on highway between Syd and Canberra and Snake rung on his mobile. Very cool to hear your own songs on some station you've never heard of - in some place you've never been!!
Man, we pulled into this servo and I had to go pooh-poohs! In front of me on the door was a sign "WANT SEX? LEAVE MESSAGE!"
And next to me there was a peephole so all these big buff truckies can go hammer and tong on eachother while some perve watches. GET ME THE FUCK OUTTA HERE! (I'm scared!!)
CHRIS.
Entry #12
Friday, Day 3
MY POEM
I love a sunburnt country
We leave at the crack of dawn
To Canberra home of firecrackers and supermarket porn
I look forward to our breakfast stops at roadhouses on the way
There's nothing quite like trukstop food,
As a good start to the day
But there's one question I keep getting asked that's starting to take its toll.
Why the fuck would I want tomato sauce on an egg & bacon roll?
It's slightly overcast now. It rained for a little before and there's fog hanging on the mountains out the window. We're 77kms from Canberra and today should be a bit more relaxed. We have a bit more time before the gig tonight.
Jake
Entry #13
Friday 6th, Day 3
Well we are almost within throwing distance of our nations very warped and hypocritical capitol.
I can't wait to find the shop we all keep talking about, where anything in Melb that's illegal will be on the shelf for sale in Canberra.
Anyway I might run down how things so far have gone.
Wagga we had awesome convenience with accom. Directly across the road from the venue. The P.A turned up late and we got no decent sound check. The foldback didn't work well but the FOH was ok once I figured out where my phase problem was. It turned out ok.
Annandale was mediocre. The desk is old and fucked. I don't know how many drinks have been spilt down that thing but it really has problems. Once again there was phase problems . What is it with NSW? Does no-one stack the FOH speakers straight in line with each other? Hopefully the get their shit together tonite.
Shane
Entry #14
Day 4, Sat
We just stayed at Matt from Henry's Anger's house. He is a much cool guy. Thanks Matt.
Jake
Entry #15
Matt from Henry's Anger told us that TOOL were rude arrogant fucks. Part of me has died.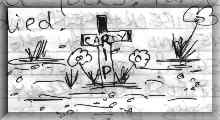 WORD TO THE ANGER!!
CHRIS
Entry #16
Day 4
My next entry will be after a hot shower. Man I can't wait!
Matt
Entry #17
Day 4, Sat
9:30am and Carty's already drinkin beer again!
Canberra last night, gig went fairly well. We had to cut the set short because everything was running overtime. Then we did our usual thing and the middle of the stage collapsed under Wesz. Rock on! We let off a shitload of firecrackers out the front of the uni bar on the campus. Is that legal? On our way to play Bayfest. I'm really looking forward to this gig.
JAKE
Entry #18
Because of these ludicrous allegations at the top of this page I've been forced to draw from my outstanding wit in the form of another poem!!



OK kiddies it's POETRY TIME!
There once was a guy named Jake
The fuckwit stepped on a rake
The rake was real sharp
And got stuck in his arse
And he thought "FUCK IT,
THERE'S A RAKE IN MY DATE !"
Thank you for your time. POETRY TIME will resume later on
CHRIS
Entry #19
Sun 11:00am
Well,
We've done it! The tour is over! We're on our way back to Melbourne!
Man I have no idea what happened last nite! I was in Frenzal's hotel room then all I can remember is running my gob down a line of every bottle of grog you could care to name in this guys dads restaurant after hours!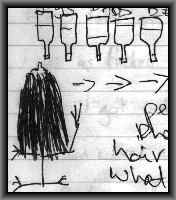 I woke up in a hotel room with about 15 people that I didn't know - with my whole hair in plaits????? (what the fuck?) What the fuck happened?? I don't know but Batemans Bay rocked and I had a ball! I'm still pissed! WHOOAAA!
SEE YA - CHRIS!!
Entry #20
Sunday, Day 5
We are on the way home from the 'Love Bus' tour. The whole thing is over and we fuckin rocked every where we've been. Yesterday was "AWESOME" if I do say so myself. We all proceeded to get totally fucked up as soon as our gig was over. Lots of alcohol and other things later and we all partied all night. I was as fucked up as it gets. I've lost a couple of hours. I got undressed in the van on the way to the hotel and walked around there half naked till bedtime. Now Carty smells like a brothel and has probably got more stories than me. Maybe I should have gone out with him afterwards. Piss-on in Batemans. It rocks.
Shane
Entry #21
11:30am, Sun 8th Oct
Driving home from Batemans down the coast road to Pambula first for some chow and then some morning medicine (mmmmmm.)
( IT'S POETRY TIME!! )
The tour's been a blast,
It's gone very fast
At times like a clock set on speed
So let me take the time
To word you this rhyme
And tell you what you can't see
The town of Wagga
Was a gig with a pool
And the billabong gardens
Was also "toooo" cool,
Now you may be wondering
Why I'm talking about pools,
So ask Matt or Jake
And they'll tell you the rules,
Of touring with Biscuit
And making your mark,
In an animated way,
In the light or the dark.
Now our playing on the road
Has been quite an adventure
From Wagga, to Sydney
And a Canberra/Bateman's venture,
But before I continue
Writing this bit
I must inform you
That this handwriting is shit
But if you were sitting where I am
On an esky and bus
Then you'd probably understand,
You wouldn't make a fuss
But hey, let me get back
To my story to be told,
Before I get wrecked,
And before I get old,
The "ANU" was a stage with no support
So hey, I'll fuck it
I'm that kinda sort,
And Bateman's Bay was a gig that went off,
With the crowd so responsive
And a shitload of hospitality,
(I don't have to rhyme every fuckin line)
But I'll finish it off
I'll do the time,
We've had way too much fun,
It must be illegal,
Hope to do it again
We rocked hard with the Testeagles,
Chow, chow, chow,
Seen too many cows,
It's time to go now.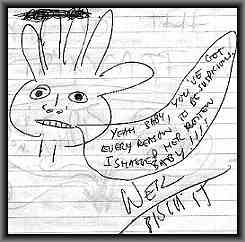 "Yeah baby, you've got every reason to be suspicious.
I shagged her rotton baby!!!"
Entry #22
I know ya probably sick of me but I'm back!!!
My mate made me a trincate that was going to give us safety and prosperity. We hung it off the rear view mirror of the van and it kept us safe and prosperous!!
WORD TO THE TRINCATE!!
CHRIS
Entry #23
Sun 8th
It's over and we are now back in Victoria. And what the fuck is up with this page. Who did that?
So now Carty is saying that he is never going to drink or consume substances again. We will just see about that. I don't have anything interesting to write, I was just bored so I thought I would fill up some more of this book.
Bye
Shane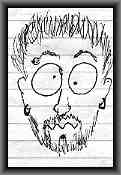 WESZ
GREEN OUT PERIOD
8/11/98
4 : 07
- JAKE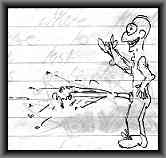 Entry #24
Well we just went through Sale. So we're kinda getting close to home.
The last show of the tour was yesterday in Batemans Bay. BAYFEST "98"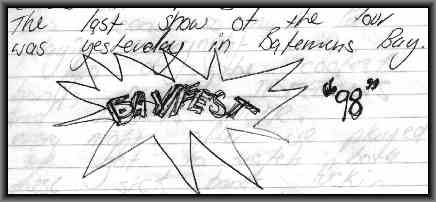 which by far was the best show of the tour. It was wicked to get back on a festival size stage and just fuckin go off hey. And it was so cool to be able to just kick back after we played and watch a heap of other sicko bands. But the best thing about last night was all the free Ruskis we had and all the wicked free food!
Well it's going to be cool to get home and just chill out!
It's been so much fun playin every night with two of the coolest bands around, TESTEAGLES and HENRY'S ANGER. Every night after we played we just got to watch both these sick bands fuckin go stupid on stage, which has been real cool.
We just passed Rosedale wow!
So Sair and Jules thanks for getting us our tour book and we hope you have fun readin about what Biscuit did on our first real tour. Anyways this is Matt. D. signin off for now!
Later
PS. Fuck it's hard writing in the van!
Entry #25
Nearly home, had an absolute ball and can't wait to get away again! Thanx for this book guys. I know the writing's shockin but as we've said, it's hard in the van. TESTEAGLES & HENRY'S ANGER rock hard. I've got a lot of time for all members of each band. We'll be doing heaps more with both bands.
Anyway I'm off so bye and we'll speak next tour!
See ya
Christopher James Carty
XO